American Football is not a popular sport in the Netherlands. The Americans, on the other hand, did not like it. What FIFA is here is Madden NFL in America. Nevertheless, there are enough Football enthusiasts in the Netherlands to publish the Madden NFL here every year. Whether this game deserves a chance, we discuss in the Madden NFL 18 review.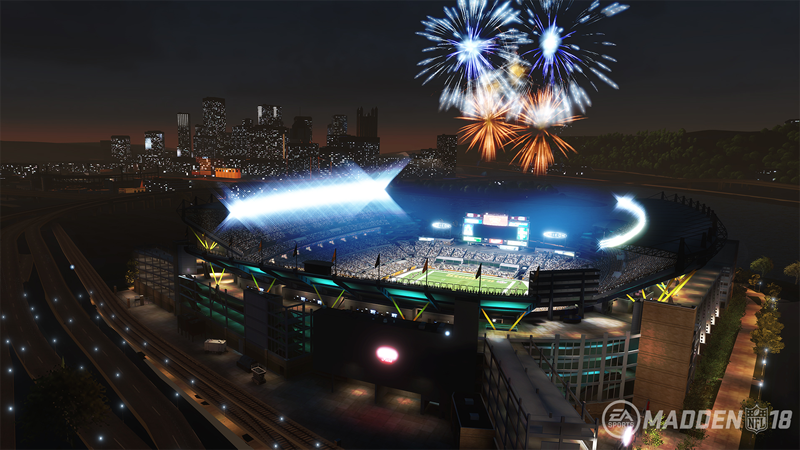 It's September and that means starting a new season from the NFL, the largest and most important American Football league in the world. Madden NFL Football is already in the 29th part of the series and in recent years the game has not really made much progress against previous parts.
EA owns a monopoly on NFL's rights and therefore often eliminates the creation of almost the same game. This year, EA Sports has thrown over another move by switching to the Frostbite Engine like FIFA 17. This engine should provide a more realistic experience, and that has also been achieved in a sense.
Madden Interpreted It From The Journey
The other thing Madden has "picked" from FIFA is a play mode with a story a la The Journey. In Madden this mode is called Long Shot. In this you play the role of Devin Wade, a young ambitious quarterback who ran away from a successful career and is now trying to revitalize his life in football. He is asked to join a TV show called the Longshot, who can help him with this.
You play the storyline in a way that you may know of the Telltale games. During conversations between the characters, make decisions that affect the further course of the story. You notice that a decision you make or the way you play a minigame really affects the course of the story, but you can quickly figure out what consequences a particular decision will have. That does get the tension a bit out of the story.
Also, there could have been more football. Over the whole story, you can play in a solid 5 hours, you play a few pots of football and took it very long before you first entered Devin Wade. Despite this criticism, Longshot is overall a fun addition to the game and the story is dizzy enough to play multiple times to see what other outcomes can be. Longshot is therefore a good addition to the game and certainly fine for the change.
A New Engine With New Problems
Ultimately, in an American Football game, it's a matter of playing American Football on your Xbox One or Playstation 4. The previously discussed Frostbite engine makes the experience a lot smoother, but definitely not a lot better. For the moment, the game is still missing from unnecessarily missed tackles, unnecessarily many fumbles and other flaws in the football game that cause extreme frustration. There are still many bugs and imperfections in the game, which hopefully will be eliminated during the first few weeks of the game.
Like almost every year, EA tries to update the game by adding new mechanics. This year, precision fitting is an important addition. This allows you to accurately throw the ball to the place where only your teammates can catch him. Nice, but not very exciting, honestly.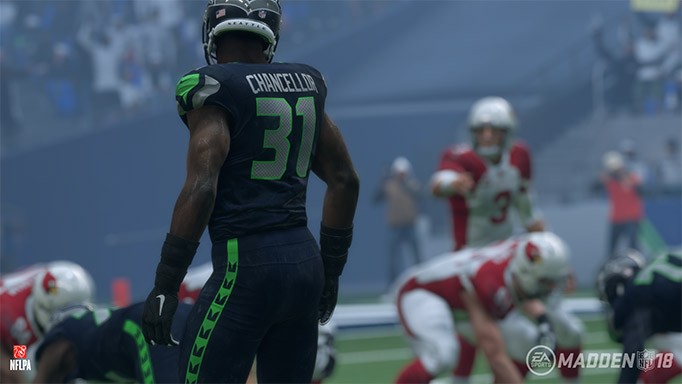 Play Madden 17 Or Madden 18?
EA Tiburon, since its inception, the developer of the Madden NFL series, will be released this year with a game that seems ridiculous to the predecessor in terms of design. At least a new background from the start menu, but the design is almost the same. Also the presentation is almost the same with only a few new texts added. Perhaps EA should consider a new design, which reduces loading times and navigates the menu menu, as it is still flawed and slow.
Whoever watches a lot of gameplay from Madden NFL on YouTube knows that Ultimate Team with Distance is the most important mode in the game. Again this year, EA has again concealed the concept to keep the player captivated. Instead of purchasing only the best player in the auction house or in packs that you can buy with real money, this year it is possible to upgrade players from a 73 overall to maybe 91 overall.
Ultimate Team fans have clearly stated that they are struggling to build a good team without spending real money. EA meets these players through challenges that allow you to play players who can not sell or trade. In this way, you can build a strong team without the entire economy of Ultimate Team getting drunk. This makes Ultimate Team a lot more play-to-win rather than pay-to-win.
MUT Squads
As an addition to Madden Ultimate Team, EA has added a new, cooperative mode to MUT, namely MUT Squads. One of the most important new features we've seen on the E3. After playing the game several times, it may be said that it does not work unless you interact with friends with whom you communicate well and clearly. There is a possibility of being paired with two other random players to record three against three other players, as you notice that communication is missing and that it will be a bunch of errors.
A player is responsible for the attack and plays the quarterback, the team game divider, another chooses the tactics of the defense and the third player actually seems to only attend bacon and beans that may play well. Hopefully, this mode will be further elaborated in the future or future Madden NFL games, because here is definitely potential.
Madden NFL 18 Review – Still Fun, But Not Much News
Madden has been a very fun game for fans for years and like FIFA, you feel almost obliged to buy the game again. It only starts to annoy you always get the same game. Actually, it is time to do something about it.
It does not matter that you can enjoy your Madden NFL 18 perfectly, and even up to the release of the Madden NFL 19 with Ultimate Team. And if you're not yet familiar with American Football, Madden NFL 18 is the perfect introduction to the most tactical and spectacular sport in the world. If you want to buy excellent players in MUT mode after the release of Madden 18, you can choose buy cheap Madden 18 coins for sale on madden-store.com. You won't want to miss them.